A few times a year we're doing some installations of our body kits here in our workshop. This time we were very happy to hear that our customer wants us to take his car to a whole new level.
For us, it meant a complete makeover – building a car from scratch. Besides our SR66 wide body kit for Audi A5/S5/RS5 and the usual installation process, we also took care of varnishing, foil wrapping, as well of equipping the car with a set of custom-designed forged rims, premium air suspension, and exhaust… are you sitting tight? Here we go….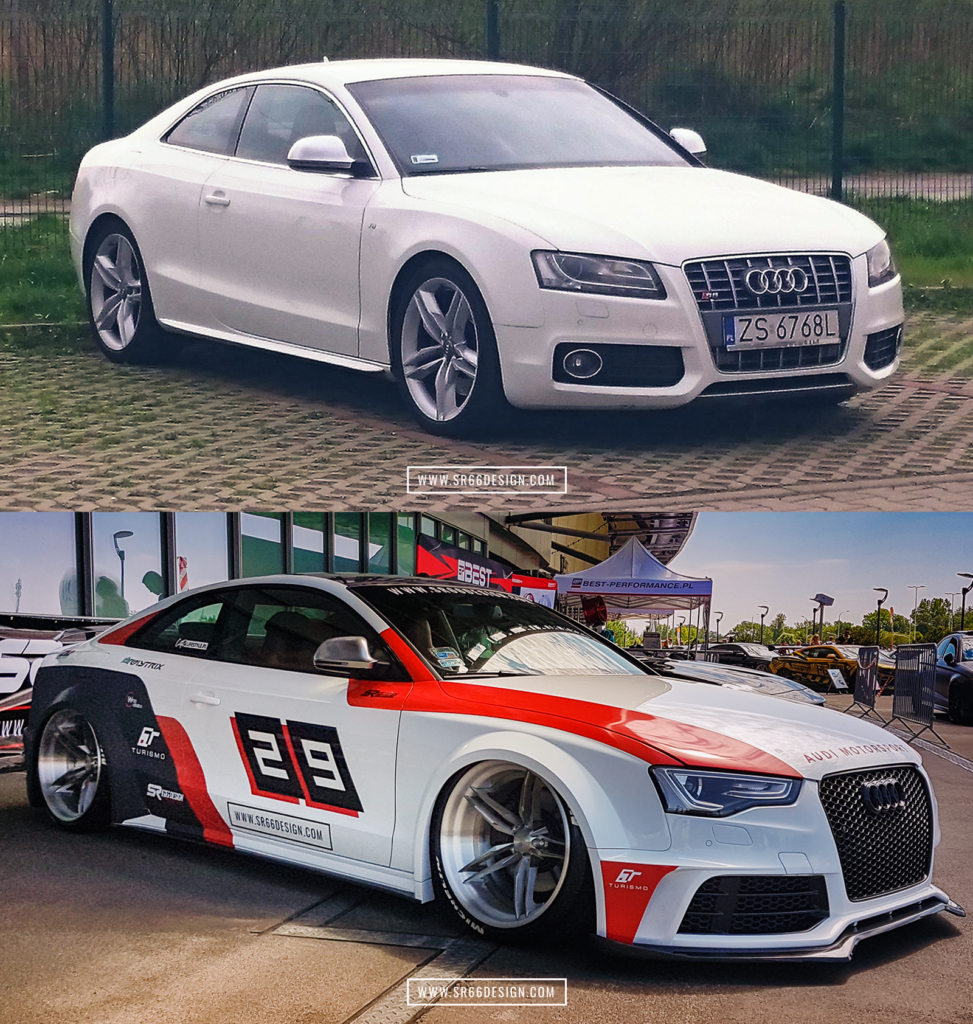 Our patient was an Audi S5 Coupe 8T. Since our client wanted to save the legendary V8 under the hood yet have a fresh look, he did a facelift swap before he even showed up in our company. Okay, let's begin with some photos!
As you can see on the first pic here, the car has been stripped down from original OEM parts: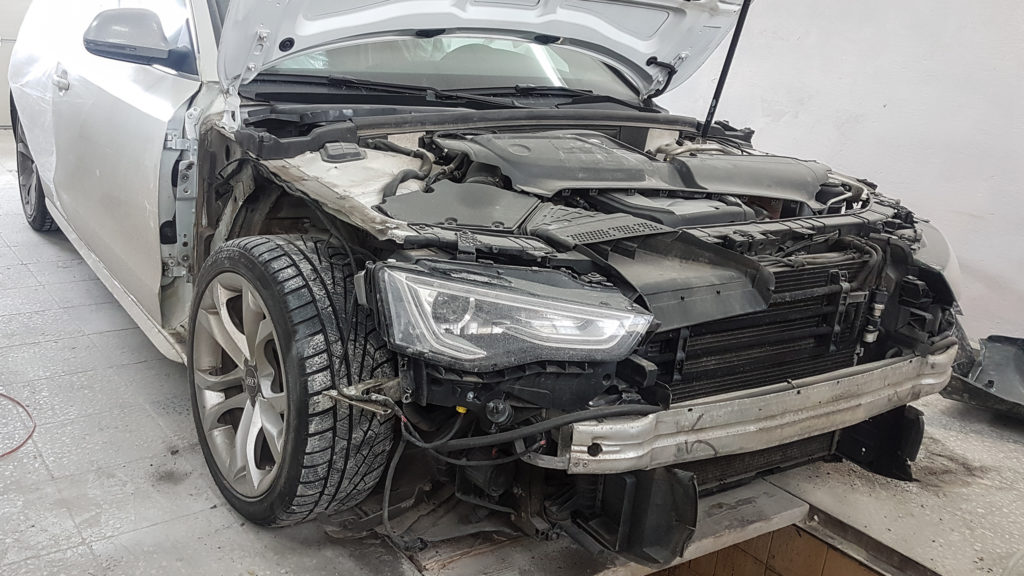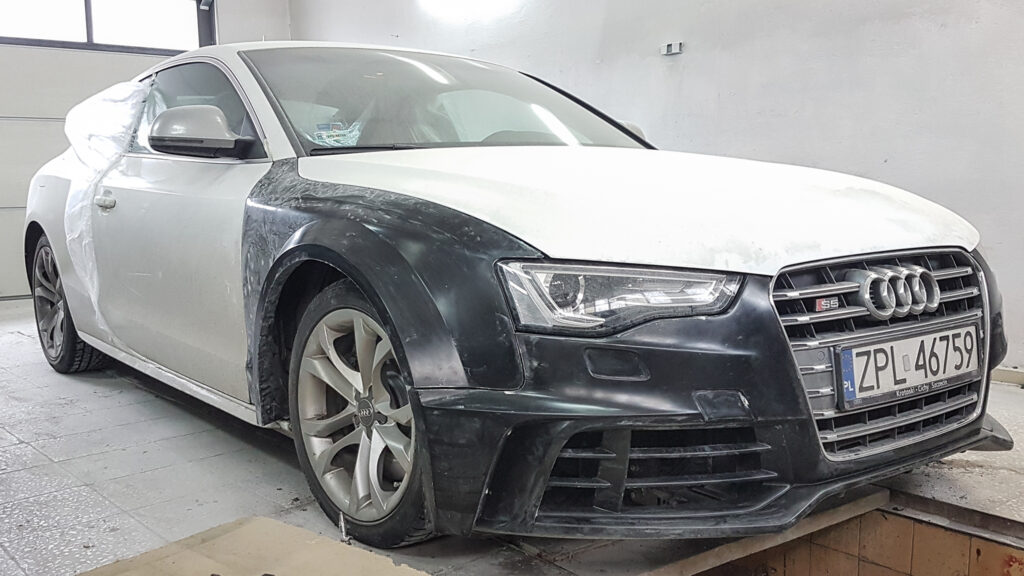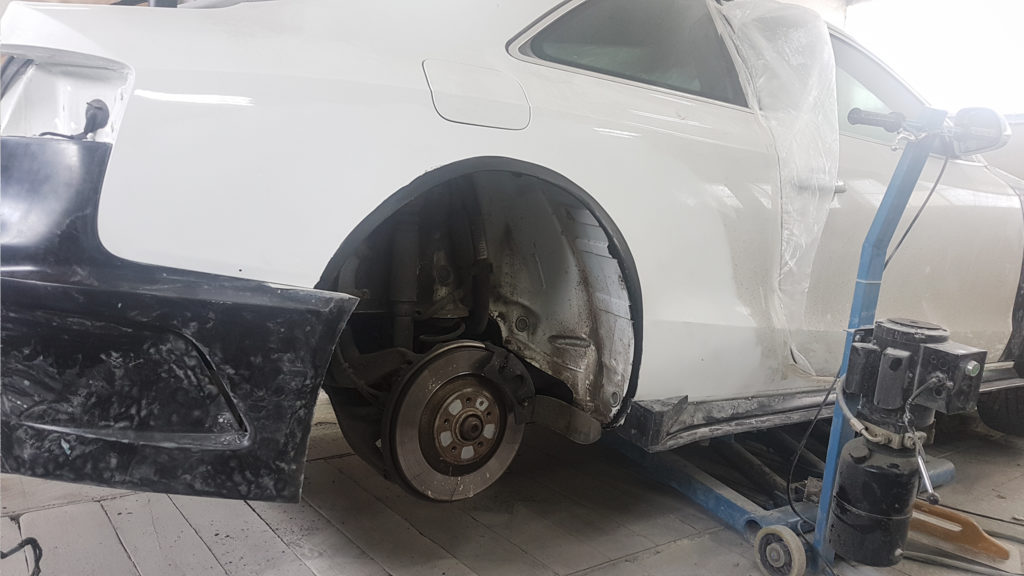 Our client, Marius (S5 owner) wanted us not only to install the body kit but to help him build a one-of-a-kind car. That said, we knew that doing a car like this requires some help from a few of our friends…
We started with the car's sound. Our main goal was to output the mad V8 sound. First thought? Call Wojtsen from Turismo. Our friend prepared for us some propositions when it comes to the exhaust. This is where Armytrix-weaponized exhaust came by to say hello. The highest possible option – is from the manifold to the rear bumper. Of course with exhaust flaps (since this car has to be street-legal) managed with a separate, dedicated pilot.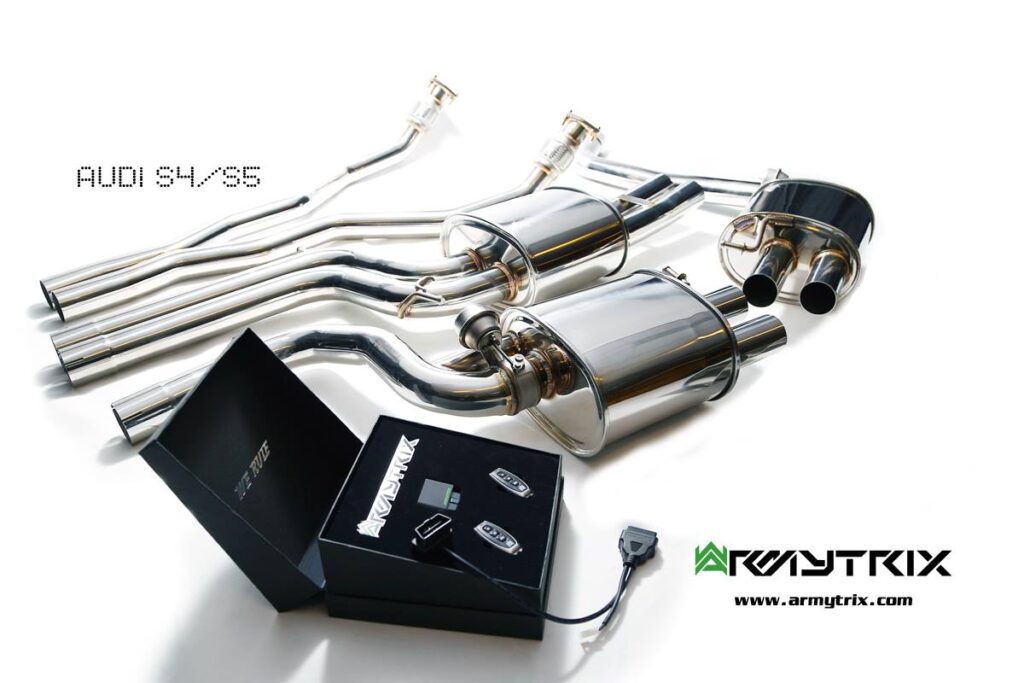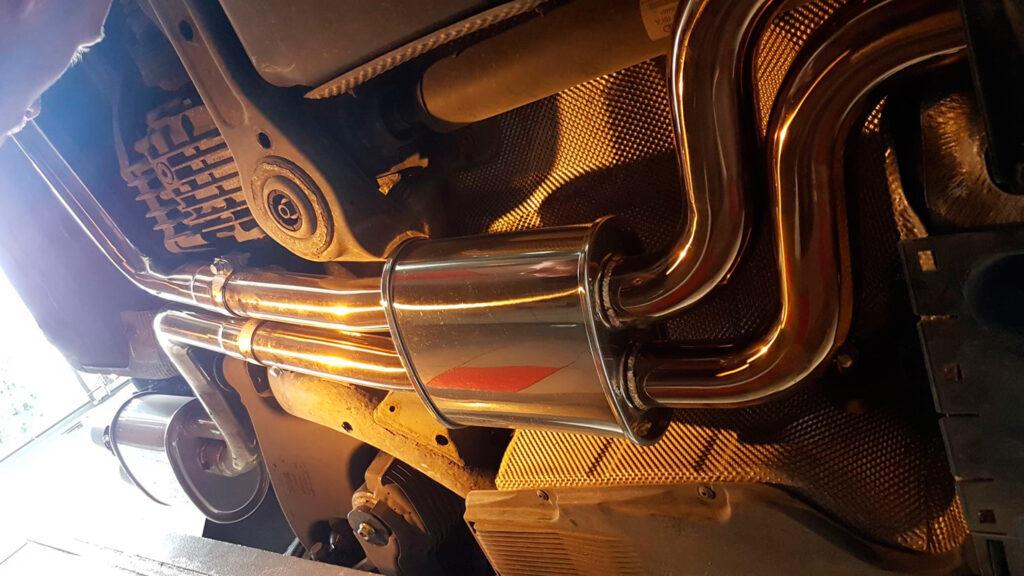 The next step was suspension. Turismo ordered the highest variant of D2Racing Sport air suspension. Later on, we combined our forces in order to design a set of custom-designed forged rims, which were done by Turismo.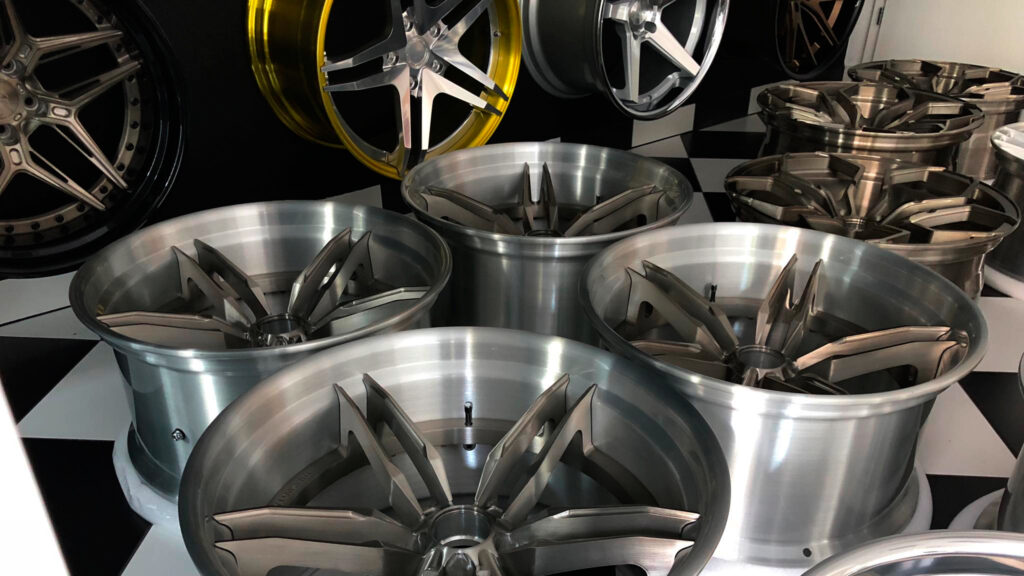 We also fitted the rear bumper and spoiler to see if everything aligns correctly: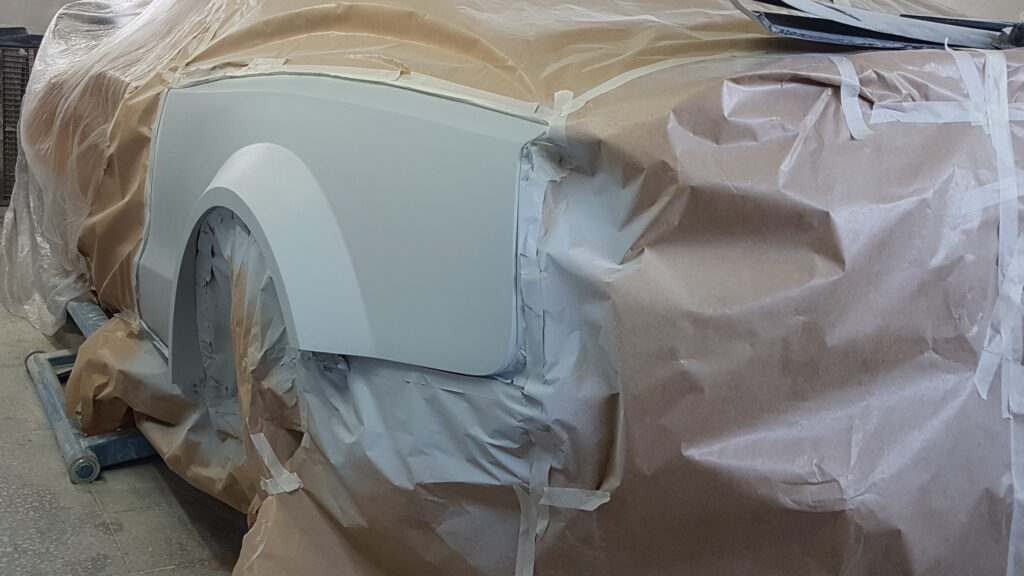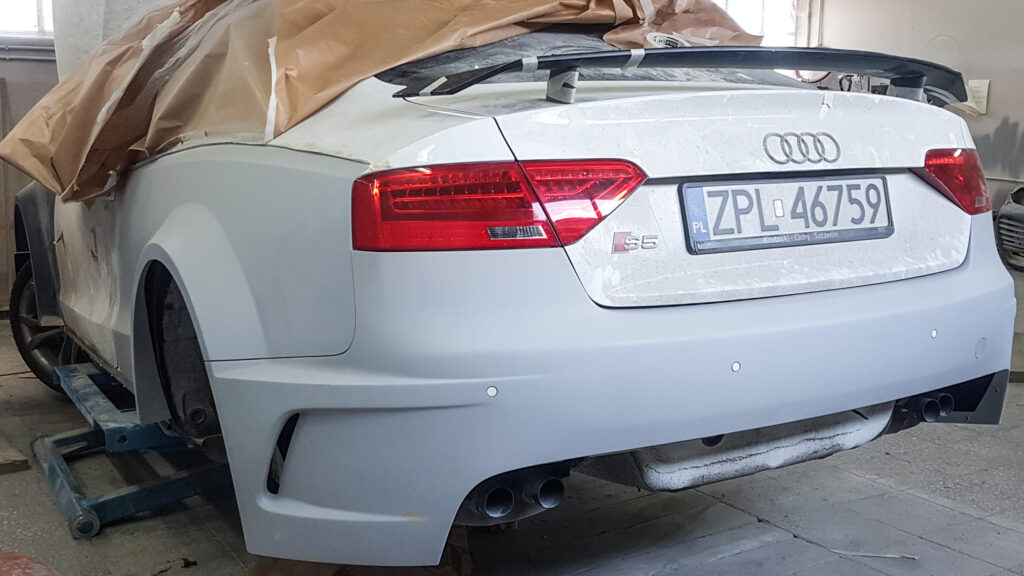 When the body kit installation was nearly finished, it was time to install air suspension so we could fit the new rims and do some necessary adjustments in our body kit so the rims won't hit the fenders when dropped to the ground. This is how it looked with stock wheels on. Funny, huh?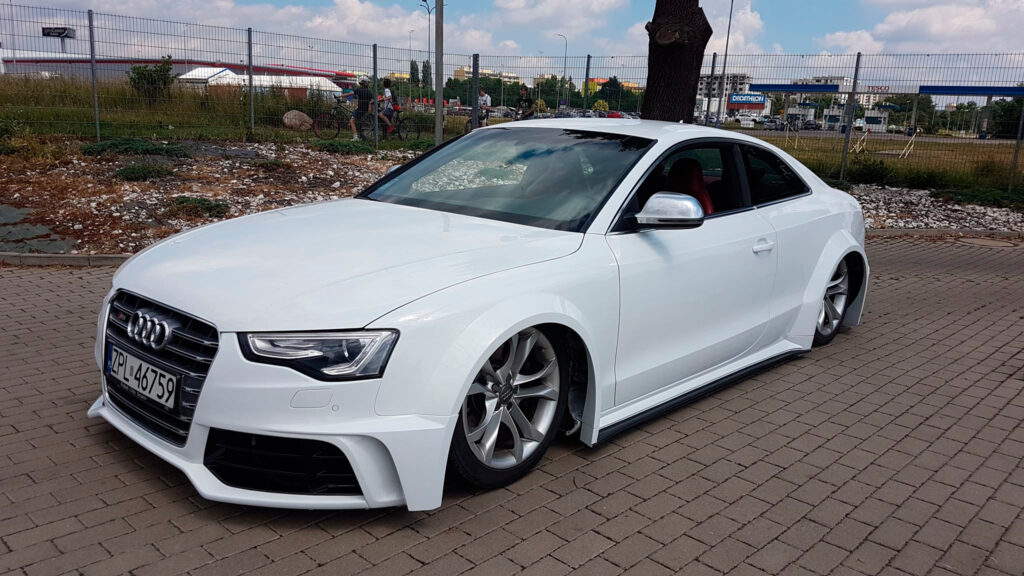 Of course, we didn't want too many people to see the car in this condition, so we rapidly started to equip the client's Audi with carbon fiber add-ons like the front lip, trunk spoiler, side skirts, and diffuser. You have to admit that the rear carbon fiber diffuser combined with Armytrix exhaust tips looks sexy: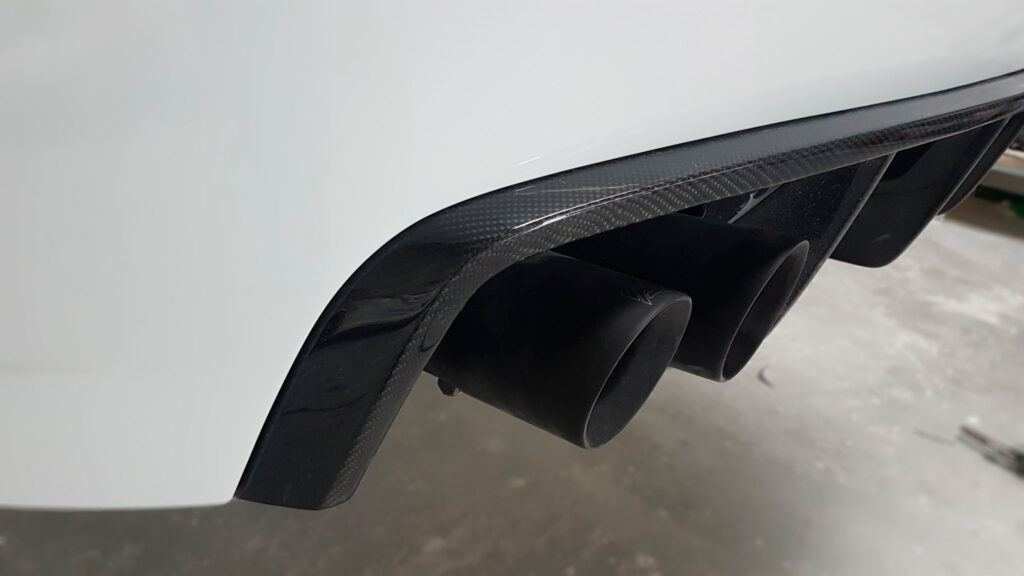 Our friends from Kopalnia Połysków detailing studio helped us to buff the overall look of the car… when everything was installed they took care of the paint job, as well of the interior, engine, wheels and carbon parts: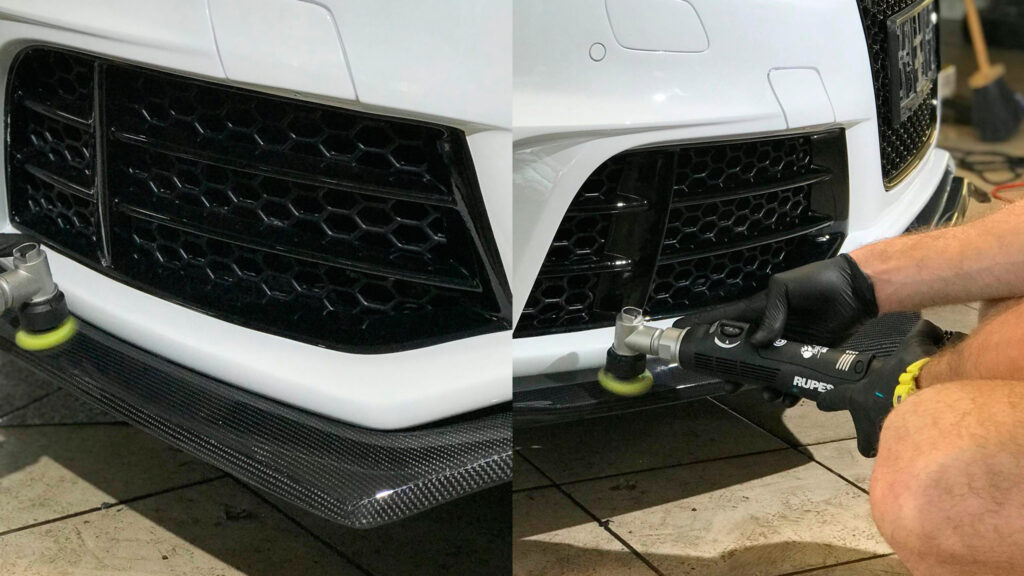 And there you have it! The (almost) finished car:
Some of you would say that the car already looks great (and well, you are right) although we figured out that it would be great to do some custom wrapping on it in order to achieve that proper racing look and outline the furious nature of the beast. We came off with a DTM-inspired wrap design by 960pixels.pl and our friends from a wrapping firm named Wrap Collabo fulfilled the vision by transforming the concept design into a real-life wrap. What's worth mentioning – we did the wrap one night before the biggest Stance event in Europe – RaceISM held in Wroclaw, Poland.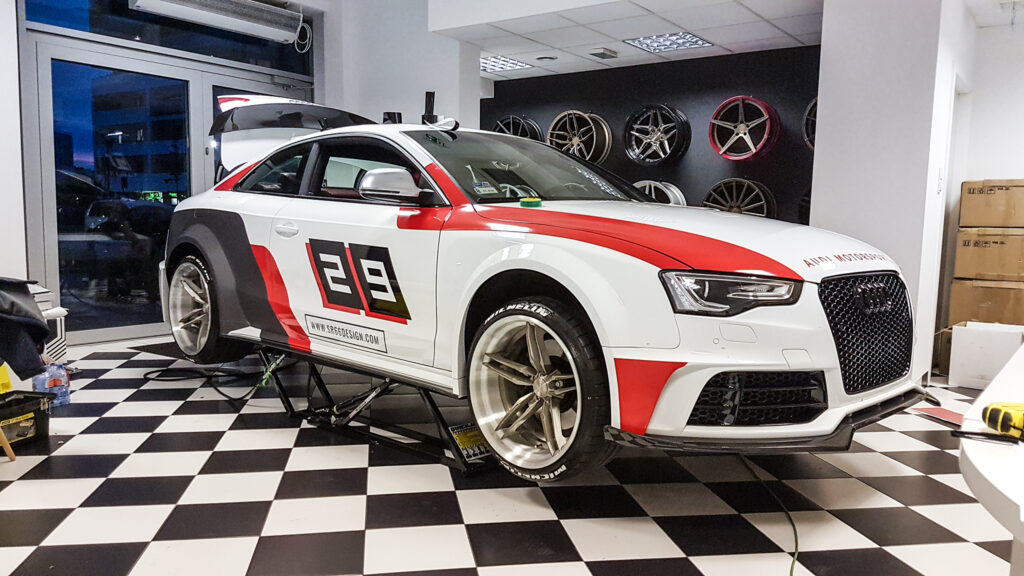 Audi to this day looks like this… we hope that you like it! Most of the final photos were made by our friend BRTK.
For now, this is it… be sure that we will post a video of our SR66 widebody Audi S5 quite soon!
If you own an Audi and wish to change the looks of your car – simply drop us a line! Our SR66 kit is still available for purchase! I hope you enjoyed the post!