Last year you've seen how we built the SR66 Widebody Audi S5, now we want to show you another member of the VAG group tuned by us – also an Audi, although a little bit more exotic. Ladies and Gentlemen, check out our newest baby – the SR66 Design Widebody kit for Audi R8 (420) Spyder! The history of this particular R8 is long and complex and we really don't want to focus on that matter. When bought, Audi looked just like every other stock R8.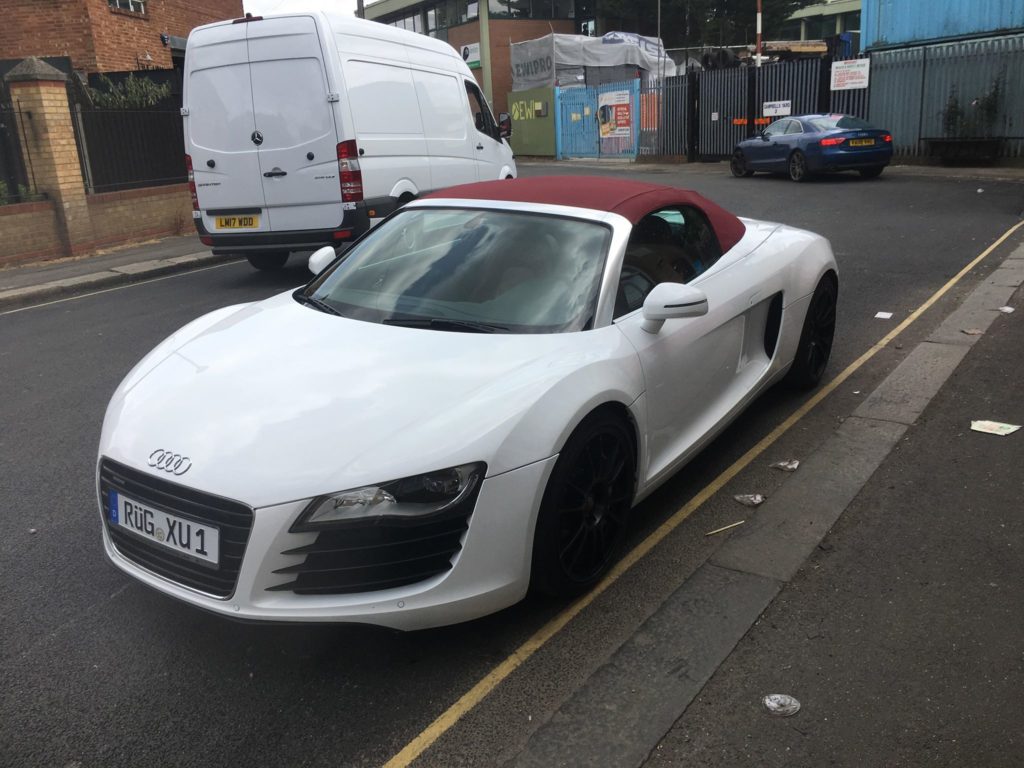 R8's owner decided to begin his journey with the optical tuning of his exotic. Although time went by and Peter got a bit bored with the looks of his car. This was the moment when he called us with a desire to tweak his current body kit a bit. We started talking and from a minor project it grew up to a very complex and serious build that had to be done from scratch. Car came to us "a bit dismantled" so we began our work rapidly. Modeling the new body was long and extremely demanding: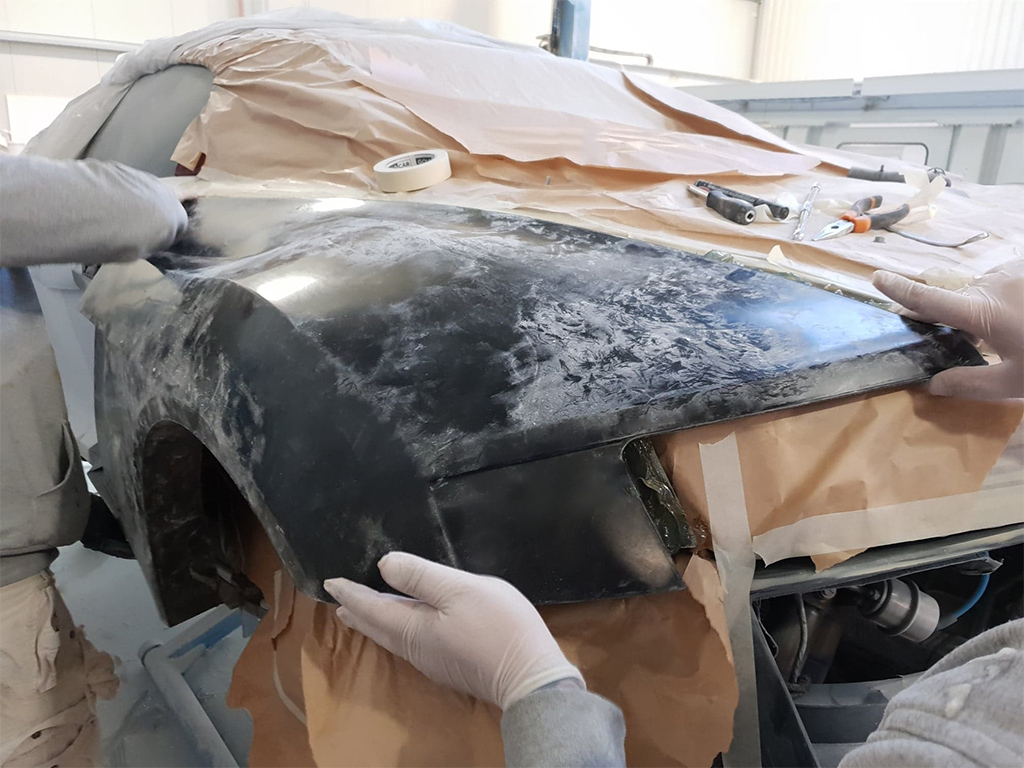 Regardless of the fact that it's a Cabrio (Spyder) we had to achieve that true racing look & style. R8 was inspired by newer models from the Audi palette, followed by the LMS track versions of the supercar. From a curvy and subtle car, it became a mean-looking, sharp-edged furious street weapon. After we finished modeling, we came up with a big project consisting of completely new parts, such as:
front bumper
front bumper lip
front fenders
hood (bonnet)
rear fender panels (wings)
rear fender air intakes
side skirts
rear bumper
rear bumper diffuser
Additionally, we also did a huge frame-mounted rear spoiler. Regardless of that, it wasn't enough.
Our customer wanted his car to have some bespoke elements, so we took care of carbon-fiber elements outside of the car and fulfilled ourselves as a counselor when designing the truly bespoke interior in collaboration with LFANT Design.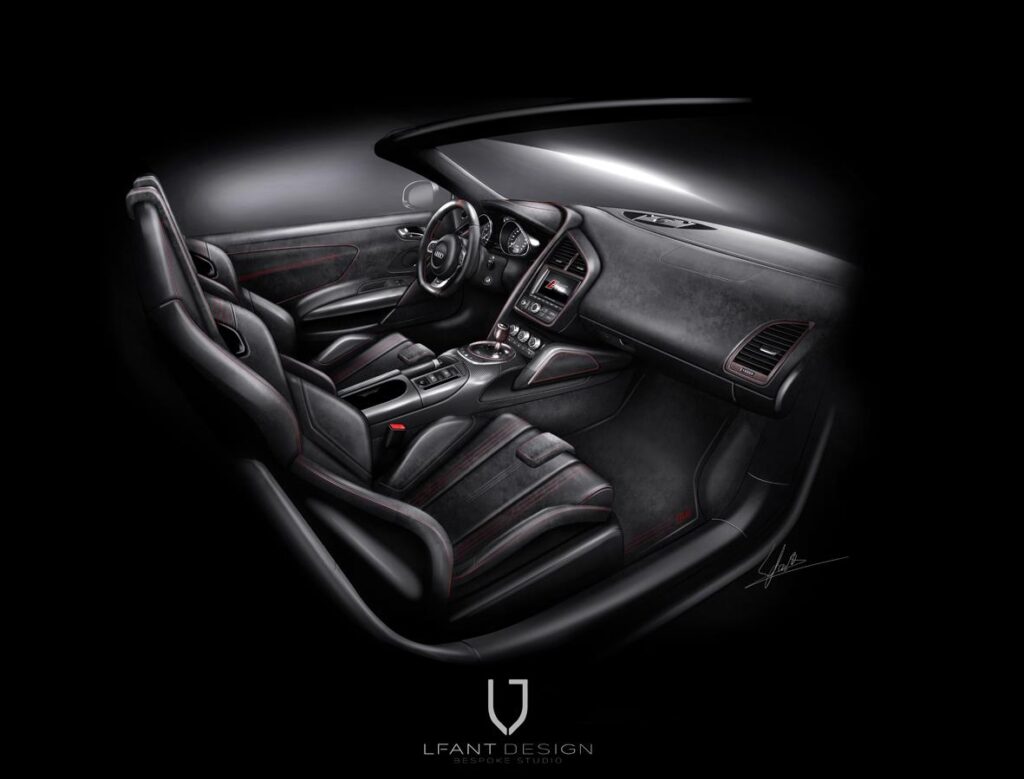 After the concept design was finished, the interior was tailored by professionals from Carissmo. Few pics of the interior:
The bodywork was nearly done, the interior also… one thing that also had to be done before the car's premiere was the exhaust. Audi R8 has been equipped with a titanium QuickSilver exhaust. But as you might have figured it out already – our client wanted it to be unique, just like everything else in his car. What more can be done with such a great exhaust you might ask? The answer is fairly simple. Valves. This is where our friends from GTPerformance came by and installed some custom valves for the exhaust so it can be horrendously loud when desired to be so.
The car has been assembled and it was a perfect moment to take care of air-ride suspension alongside wrapping. Audi R8 has been equipped with AccuAir EndoCVT air suspension and wrapped in some racing-inspired Audi colours. What's worth mentioning, wrapping was done in the same colours as our last Supercharged SR66 widebody Audi S5. 9Sixty Design was responsible for the design, and our fellows from Wrap Collabo fulfilled the vision. Some pics of the car after wrapping:
And two pics of how the car looks after it has been bagged by airride-system.pl:
Of course, If you liked the photo session of our R8, be sure to check out other awesome pics by Jakub Gosztyla Pictures! Now it's time for some proper rims, which eventually will be equipped on the car at the beginning of July. Stay tuned for updates!